Steve Alford: Defense is keeping UCLA from taking next step
Consistent defense continues to be an issue for UCLA, and Bruins head coach Steve Alford knows it. UCLA lost at Utah 84-78 on Thursday night. The Bruins allowed the Utes to shoot 52.7 percent from the field for the game. There was a period in the final six minutes of the first half where Utah made five straight threes to build a lead (they went into halftime up 47-40). After the game, Alford pointed to the defensive lapses by the Bruins and said that was preventing the team from taking the next


Russell Westbrook makes buzzer-beater to sink Kings (Video)
Even on a night when he wasn't at his best, Russell Westbrook still found a way to make a big impact. Westbrook drained a 3-pointer at the buzzer to beat the Sacramento Kings 110-107 on Thursday night: Westbrook didn't have his shot for most of the night until then. He still finished with a triple-double in Oklahoma City's win. And credit Thunder coach Billy Donovan for drawing up a playing that gave Westbrook such a wide open look.


Did Nikola Mirotic troll Bobby Portis after Bulls' loss?
Nikola Mirotic dropped an interesting, well-timed tweet on Thursday night that has many wondering whether he was trolling his former team and teammate. Mirotic is now with the New Orleans Pelicans after being traded there by the Chicago Bulls earlier this month. His team was off on Thursday, but the Bulls played. In fact, they blew a lead and lost to the Philadelphia 76ers 116-115. Not only did the Bulls lose, but the defeat came on a night when Bobby Portis scored a career-high 38 points. Ri


Jocelyne Larocque apologizes for taking off silver medal
Canadian hockey player Jocelyne Larocque issued an apology for taking off her silver medal after losing the gold medal game to the United States 3-2 in a shootout on Thursday at the Winter Olympics in PyeongChang. "I want to apologize to the IOC, IIHF, the PyeongChang Olympic Organizing Committee, Canadian Olympic Committee, Hockey Canada and most especially to my teammates and our fans for removing my silver medal after it was presented to me," Larocque said in a statement. "


Highlanders beat Blues 41-34 in Super Rugby
DUNEDIN, New Zealand (AP) Tei Walden came off the bench to score two second-half tries and lift the Dunedin-based Highlanders to a 41-34 win over the Auckland-based Blues on Friday in the first match of the Super Rugby season in New Zealand.


Canadian Jocelyne Larocque explains why she took off silver medal
Canadian hockey player Jocelyne Larocque drew attention when she took off her silver medal upon being awarded it following the gold medal game at the Winter Olympics in PyeongChang on Thursday. Larocque's Canadian team lost 3-2 in a shootout to rival US, whom they'd beaten in the gold medal game at the last two Olympics. The medal presentation ceremony takes place on the ice after the game. Immediately after the silver medal was placed around her neck, Larocque removed it. "You ...


Shootout hero TJ Oshie sends shoutout to Jocelyne Lamoureux
TJ Oshie sent a shoutout from Team USA shootout hero to another. The US women's hockey team won gold on Thursday at the Winter Olympics in PyeongChang with a 3-2 shootout win over rival Canada. Jocelyne Lamoureux-Davidson scored in the sixth round of the shootout, which turned out to be the winning goal after Maddie Rooney stopped Canada to give the US the edge. In 2014, Oshie helped the US beat Russia at the Winter Olympics in Sochi by scoring on four of six shootout attempts, including


Carolina Panthers reportedly could sell for nearly $3 billion
The Carolina Panthers are up for sale, and they're expected to fetch a handsome amount. According to one report, experts are saying the franchise could be sold for $2.3-$2.8 billion. The Charlotte Observer reported Thursday on the status of the Panthers sale and provided a profile on each of the reported buyers. NFL Network reported that billionaire David Tepper, who is a five percent owner of the Pittsburgh Steelers, is interested. The Observer was unable to confirm his interest. CBS Spo


Cavs' Nance Jr. to wear father's retired No. 22
Larry Nance Jr. announced Thursday night that the NBA has worked it out so he can switch from No. 24 to his father's retired No. 22 with the Cavaliers. Larry Nance Sr.'s jersey was retired by the Cavaliers in 1995.


Russia's Zagitova, 15, takes figure skating gold
Alina Zagitova, 15, edged friend and rival Evgenia Medvedeva after a thrilling free skate Friday in Gangneung, South Korea, to give the Olympic Athletes of Russia team its first gold medal of these Winter Games.


Lonzo Ball 'frustrated' with his recovery from knee injury
Lonzo Ball has not played since Jan. 13 due to an MCL sprain in his left knee, and the lengthy absence has taken a psychological toll of sorts on him as well. The star Los Angeles Lakers rookie told reporters on Thursday that he has been "frustrated" with his recovery and did not expect to be out this long. Ball also noted that he has not yet received clearance from the training staff to play in Friday's game against Dallas, per Mike Trudell of Spectrum SportsNet. Ball, who is


Panthers honor school shooting victims in win
On a night when the Panthers honored the victims of last week's shooting at nearby Marjory Stoneman Douglas High School, goalie Roberto Luongo delivered a stirring speech to the crowd during a somber pregame tribute.


Robin Lopez has funny response to tanking question
Robin Lopez had a funny response to a question about tanking. At 20-37 entering Thursday, the Bulls do not appear to be headed towards a playoff appearance this year. Instead, the team's front office appears to be focused on trying to increase their chances of receiving a high draft pick in the lottery. Lopez is not here for tanking talk and dismissed it in clever fashion on Thursday. Robin Lopez on tanking: ""I'm not familiar with military artillery." — Vincent Goodwill (@vg...


Roberto Luongo gives emotional pregame speech about school shooting
Longtime Florida Panthers goalie Roberto Luongo gave an emotional speech about the Parkland school shooting prior to the team's home game against the Washington Capitals on Thursday night. Luongo is in his 10th season with the team, spread over two stints. Luongo lives in Parkland and says his children go to school in Parkland, so last week's shooting at Marjory Stoneman Douglas High School in the city affected him deeply. The Panthers were on a road trip until returning home this w


Arizona appealing Allonzo Trier's positive test
Arizona announced on Thursday that star guard Allonzo Trier has been ruled ineligible after traces of a banned substance were found in his system during a January drug test. They also said that they are appealing the decision in hopes that Trier will be made eligible again. Here is the statement from the Wildcats: "Earlier today, the University of Arizona was notified that the NCAA has declared Allonzo Trier ineligible. In late January 2018, Allonzo participated in an NCAA student-athlete


NBA setting up hotline to report misconduct, work concerns
NEW YORK (AP) The NBA is establishing a confidential hotline for league and team employees to report concerns about misconduct in their workplace. The move comes after a Sports Illustrated report that described a hostile environment for women in the Dallas Mavericks organization.


Nuggets coach Mike Malone offering $10 to every fan who attends game vs Clippers
Denver Nuggets coach Mike Malone is taking marketing into his own hands. In an appearance Thursday on "The Vic Lombardi Show," Malone revealed an added perk for fans who attend a Feb. 27 home game against the LA Clippers. "Any fan that comes to the Pepsi Center that night, we're going to give a ten-dollar voucher for them to use at their discretion," said Malone, according to the Nuggets' official site. "You want to buy a beer, a soda, a pretzel, nachos, wh...


Adam Vinatieri calls out ex-GM Ryan Grigson after re-signing with Colts
Adam Vinatieri does not appear to have much love for former Indianapolis Colts general manager Ryan Grigson. The veteran kicker, who just signed a one-year deal to remain with the Colts, said on Thursday per Zak Keefer of the Indianapolis Star that the negotiation process with current GM Chris Ballard was "substantially easier" than it was with Grigson a few years ago. Vinatieri also revealed it was a "long, heated negotiation" with Grigson, who did not want to give him a


Tension between Kevin Love, teammates reportedly began last season
Kevin Love was the target of some criticism from teammates — mostly former ones — in January after he left a game with an illness and missed a practice, but apparently there have been some issues between him and other Cleveland Cavaliers players since last season. ESPN's Dave McMenamin provided more context surrounding the tense meeting Love had where he was supposedly called out by Isaiah Thomas and Dwyane Wade. While both Thomas and Wade were traded earlier this month, it so


FlyQuest Fly: The Mid Laner Who Has His Team's Back
Song "Fly" Yong-jun shouts into his microphone, rocking back and forth in his chair. It's KT Rolster's final pick on red side and teammate Ha "Hachani" Seung-chan stops hovering over Viktor, switching to Kassadin. More chatter, 15 seconds to go, and Hachani swaps back to Viktor. At 11 seconds, Hachani hovers over Lux. Two. One. The countdown switches to 60 seconds. Fly smiles. "Wow, Lux would be—" English-language play-by-play caster Erik "...


Report: Kyrie Irving found out Cavs discussed trading him in 'sloppy' meeting
When Kyrie Irving went to the Cleveland Cavaliers and demanded a trade last summer, it was widely reported that he no longer wanted to play with LeBron James. While that may have been true, it appears there were other important factors that have not received as much attention. ESPN's Dave McMenamin touched on one of them in a feature published on Thursday about some of the questions lingering with the Cavs franchise. In it, McMenamin reported that members of Cleveland's front office


Police no longer investigating DeSean Jackson after weed, bullets found in car
DeSean Jackson found his name in the news for the wrong reasons back in December when drugs and ammunition were discovered in a car that was registered under his name, but it sounds like the Tampa Bay Buccaneers wide receiver will avoid legal trouble. Ian Rapoport of NFL Network reported on Thursday that police are no longer investigating the incident. Tampa police are no longer actively investigating an incident involving a car registered to Bucs WR DeSean Jackson that was found to contain ma


Does Esports Have Room For Both PUBG And Fortnite?
Like two gunmen in an old Western, Playerunknown's Battlegrounds and Fortnite have been circling each other for months. Both have massive fan bases. Both seem to be on the verge of becoming esports. Both have developers scrambling to keep up with onslaughts of players hitting their servers each and every day. Both obviously share the same DNA, that of battle royale ArmA mods. In the world of esports, it seems inevitable that the two will battle it out for viewership supremacy. On Twitch, they...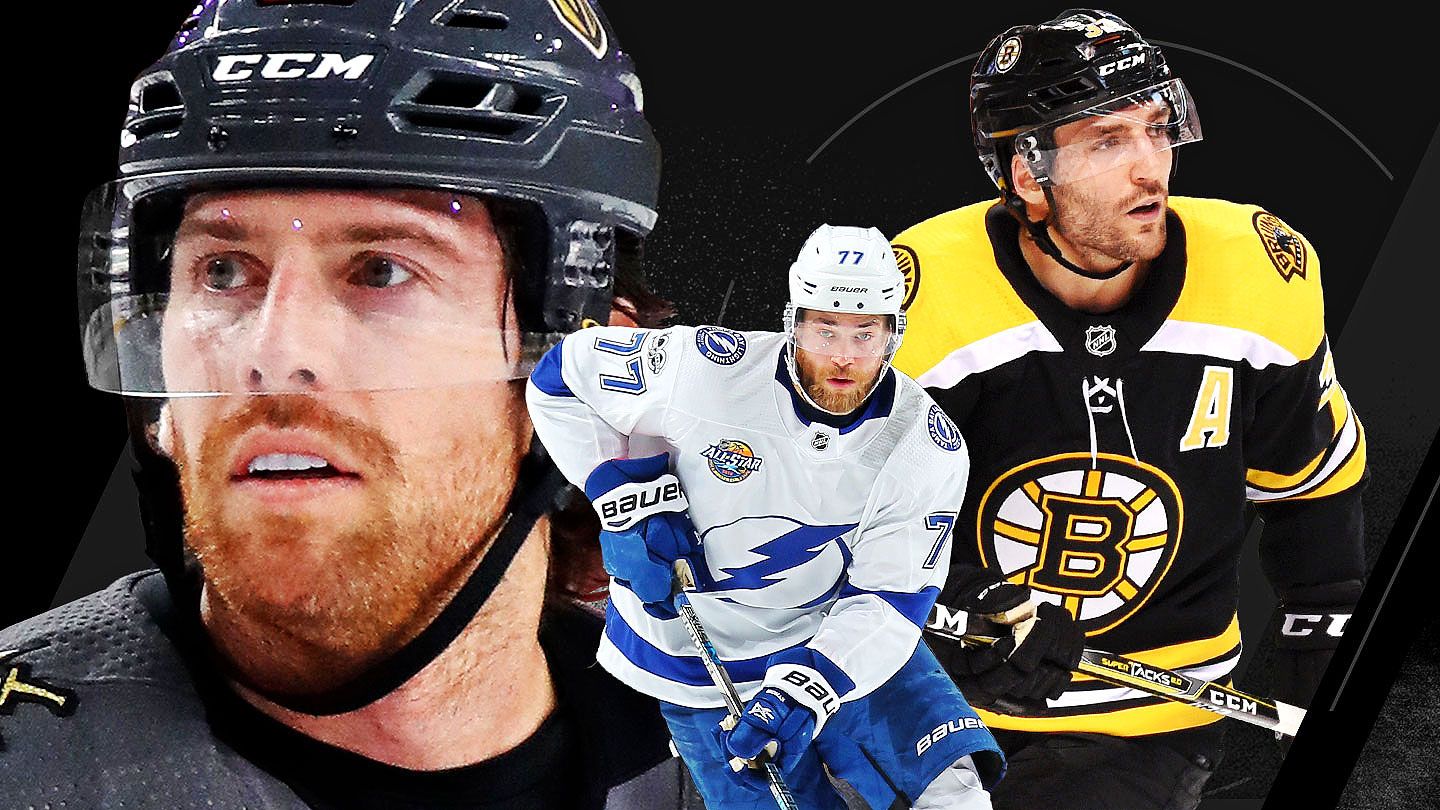 Power Rankings: A trade deadline to-do list for every team
Should the Golden Knights go for it all and keep James Neal? Could the Lightning land Erik Karlsson? Will the bullish Bruins snag another blueliner? This week, we prescribe what moves -- or non-moves -- every franchise should make by Monday's deadline.


NBA reportedly considering play-in tournament for final playoff teams
NBA commissioner Adam Silver recently confirmed that the league is considering some changes to its postseason format, and at least one of them would reportedly be a way of essentially expanding the playoff field. According to ESPN's Zach Lowe, one proposal that has gained some momentum would involve a play-in tournament that determines that final two playoff teams in each conference. The format would consist of two four-team tournaments featuring the seventh, eighth, ninth, and 10th seeds


Paul Heyman says Brock Lesnar could still return to UFC
Brock Lesnar is now 40 and has not fought in the UFC in nearly two years, but the WWE superstar's promoter says Lesnar has not yet closed the book on his mixed martial arts career. In a brief chat with TMZ this week, Paul Heyman was asked if there is any truth to the rumors that Lesnar could soon make a UFC return. "If Brock Lesnar wants to fight in UFC, Brock Lesnar will fight in UFC," Heyman said. "If Brock Lesnar wants to fight in WWE, he will fight in WWE. … Br


Report: Jets not willing to let Kirk Cousins name his price
There have been a number of reports in recent weeks indicating that the New York Jets are willing to pay any price and do anything it takes to sign Kirk Cousins, but one writer who covers the team says all that talk has been greatly exaggerated. According to Manish Mehta of the New York Daily News, the Jets "absolutely would love to sign Cousins" and feel he is a rare find in that he can help a team win games now and for years to come. However, sources told Mehta that members of the


Jocelyne Lamoureux shootout goal was named after Britney Spears song
Jocelyne Lamoureux helped the United States women's hockey team win its first gold medal in 20 years with an incredible shootout goal on Wednesday, and it turns out the golden goal had an even better name. After the dramatic victory, Lamoureux's twin sister Monique revealed that the play in which Jocelyne scored the winning goal on is one that the team has practiced, and it's called the "Oops, I Did it Again." Jocelyne Lamoureux's signature shootout move is ca


Jackson case inactive; cops think WR a victim
Tampa Police says the case involving DeSean Jackson's wrecked vehicle being found abandoned with bullets and marijuana inside is inactive, and that they believe the wide receiver was a victim and had no role in the incident.


Florida Panthers honor victims of school shooting
SUNRISE, Fla. (AP) The Florida Panthers have honored victims of the shooting at Marjory Stoneman Douglas High School with a somber video tribute before their game against the Washington Capitals.


Report: Kawhi Leonard has been medically cleared, is choosing not to play
San Antonio Spurs coach Gregg Popovich said on Wednesday that he does not expect Kawhi Leonard to return this season, but you may be surprised to hear that Leonard is the one making that decision — not the team's doctors. ESPN's Adrian Wojnarowski reports that Leonard has been medically cleared to return from his right quad injury, but he is choosing not to play. The star forward met with a specialist in New York to get a second opinion before the All-Star break, and he was ap


10 breakout stars of the 2018 Winter Olympics
The Olympics are a great generator of breakout stars. The athletes generally only gain major attention every four years, meaning new potential stars are coming onto the scene all the time. Even older athletes are finding success in the Olympics after battling obscurity and other obstacles earlier in their careers. Here are 10 star athletes whose presence at the PyeongChang Olympics have gained them newfound fame and support. 1) Chloe Kim It takes more than dominance in your sport to become a tr


Trivia Time, Dynasty Startup, Krampus Released – The Fantasy Footballers
Another fresh episode from the #1 Fantasy Football podcast Subscribe on YouTube | Subscribe on iTunes Trivia Time, Dynasty Startup, Krampus Released – Ep. #525 Fantasy Football Podcast for February 22nd, 2018. The Fantasy Footballers are back with a fun offseason episode to get you ready for 2018. First, it's a recap of the latest news including Doug Martin's release and Jarvis Landry being franchise tagged. Then, do you wanna play a game? We dive into some fun trivia from recent seas...